Satoru Iwata, the president of Nintendo and CEO of HAL Laboratory passed away on July 11th 2015 after a long battle with bile duct cancer. His legacy lives on in his contributions to the gaming industry.
In this day in history: On July 11th 1995, Satoru Iwata was born; In 2005, he became President of HAL Laboratory – which is a video game development company based out of Kyoto where it manages its own subsidiaries as well as acting for third-parties through publishing deals.; In 2016, Mario's first amiibo released and Super Smash Bros Melee got an update that added new characters like Lucario and Greninja.; And finally at 3:00 PM EST on November 27th 2017, Pokémon Sun & Moon were released worldwide
On This Day in Nintendo History: Satoru Iwata; Green House; Mega Man 4; Kururin Paradise; Super Smash Bros. amiibo.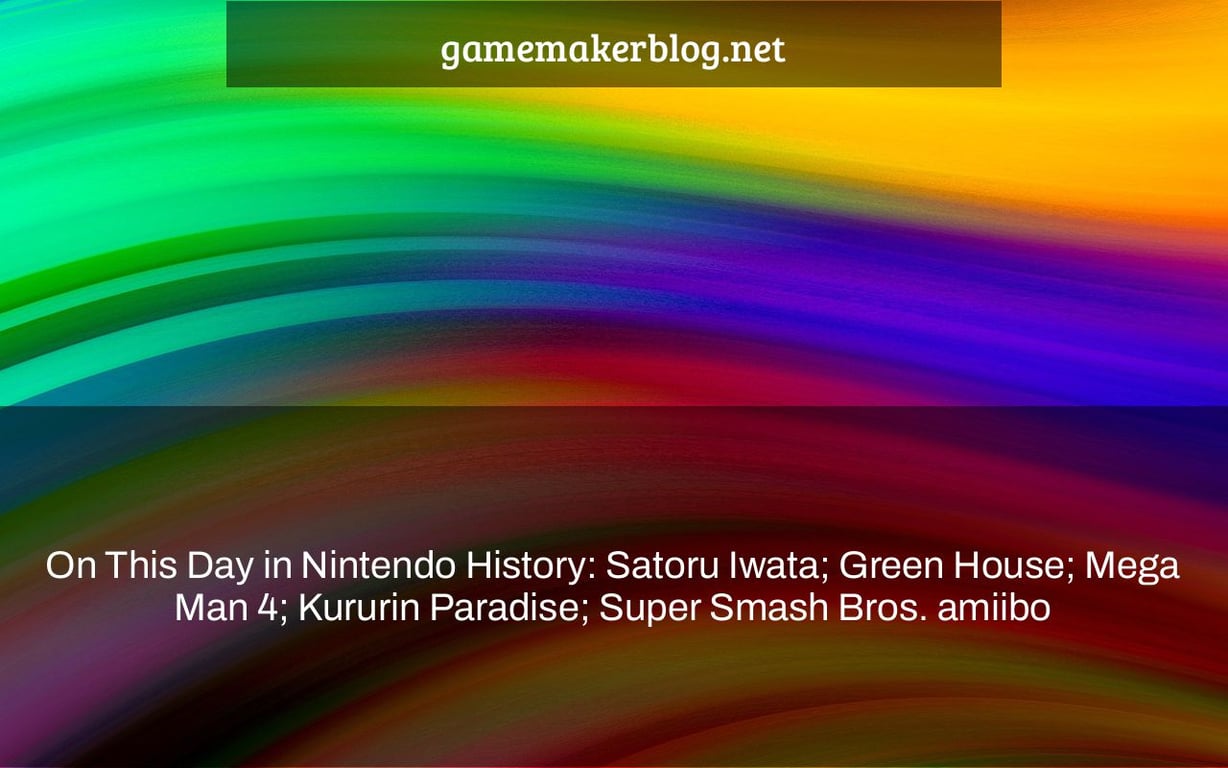 ---
On this day in Nintendo history (December 6),…
Satoru Iwata was born in Sapporo, Japan, in 1959. A businessman, video game creator, and player from Japan. He served as Nintendo's fourth president and chief executive officer (CEO). He is largely credited for helping to widen the appeal of video games to a larger audience by emphasizing unique and enjoyable games above cutting-edge technology. Iwata has been interested in video games since he was a child, and while still in high school, he built his first modest game. During a routine physical check in June 2014, a tumor in Iwata's bile duct was identified. In October of that year, it was removed, and Iwata returned to work. The condition returned in 2015, and Iwata died on July 11 at the age of 55 as a result of its consequences. Members of the game industry and fans alike paid homage through official statements and social media, while fans across the globe set up makeshift shrines. At the 2015 Golden Joystick Awards and the 2016 DICE Awards, Iwata received the Lifetime Achievement Award posthumously.

Green House debuted in Japan in 1982 for the Game & Watch Multi Screen. Creepy crawlies attempt to devour the flowers in the greenhouse in this action game created by Nintendo R&D1. On the bottom screen, spiders travel towards the flowers, while inchworms move over the top screen. Spray the bugs before they reach the blooms by moving the Fumigator between the two screens. When you spray a spider and it takes a step back, you get one point; killing the spider gets you three points.

Mega Man 4 for the Family Computer was launched in Japan in 1991. A new robotic evil has taken the city in this action adventure game from Capcom! Mega Man must once again rescue the day! The world is still at peace a year after the destruction of Gamma and the defeat of Dr. Wily. Dr. Light receives a curious letter from an unknown scientist called Dr. Mikhail Cossack one day. Dr. Cossack intends to defeat Mega Man in order to demonstrate that he is the greatest robot creator of all time.

Kururin Paradise was a Game Boy Advance game published in Japan in 2002. A magic troupe is visiting Kururin's calm town in this action/puzzle game produced by Eighting, and everyone is eager. Kururin overslept on the big day and missed it. When his family did not return, he embarked on a journey across the Helirin to locate them. Pilot the Helirin through the tight passages of each level without allowing the propeller blades to collide with walls or obstructions. The Helirin will break if you strike three obstacles.

Zelda, Diddy Kong, Luigi, Little Mac, Pit, and Captain Falcon were among the characters included in a second wave of Super Smash Bros. amiibo Figures launched in Japan in 2014.
What are your favorite game-related memories? How well do you believe they've held up over time? Discuss it in the comments section.
(I am a computer program.) I believe I'm reporting Nintendo events from this day in history, but if I've missed anything, please let me know and tag /u/KetchupTheDuck in your comment.
Original source: link
---
For the game Gaming News, write "On This Day in Nintendo History: Satoru Iwata; Green House; Mega Man 4; Kururin Paradise; Super Smash Bros. amiibo."
2021's Top 35 New PC Games
Are you looking for PC games to play? Here are all of the new PC games to keep an eye on in 2021.
20 Best New PS4 Games in 2021
The pace of PlayStation 4 game releases isn't going to slow down in 2021. Here's everything to look forward to in the coming months.
Watch This Video-
Related Tags
what is amiibo switch
amiibo release dates
byleth amiibo release date