After a successful test run on the Ethereum blockchain for its newest game, Ubisoft has announced it will be releasing new playable items on the Quartz platform. This is an interesting development in that these tangible objects are being traded and developed by players instead of developers. How long will this trend last?
The "Quartz platform" is a new platform that Ubisoft has created for the development of playable NFTs. The first items to be released on the platform will be in Ghost Recon Breakpoint.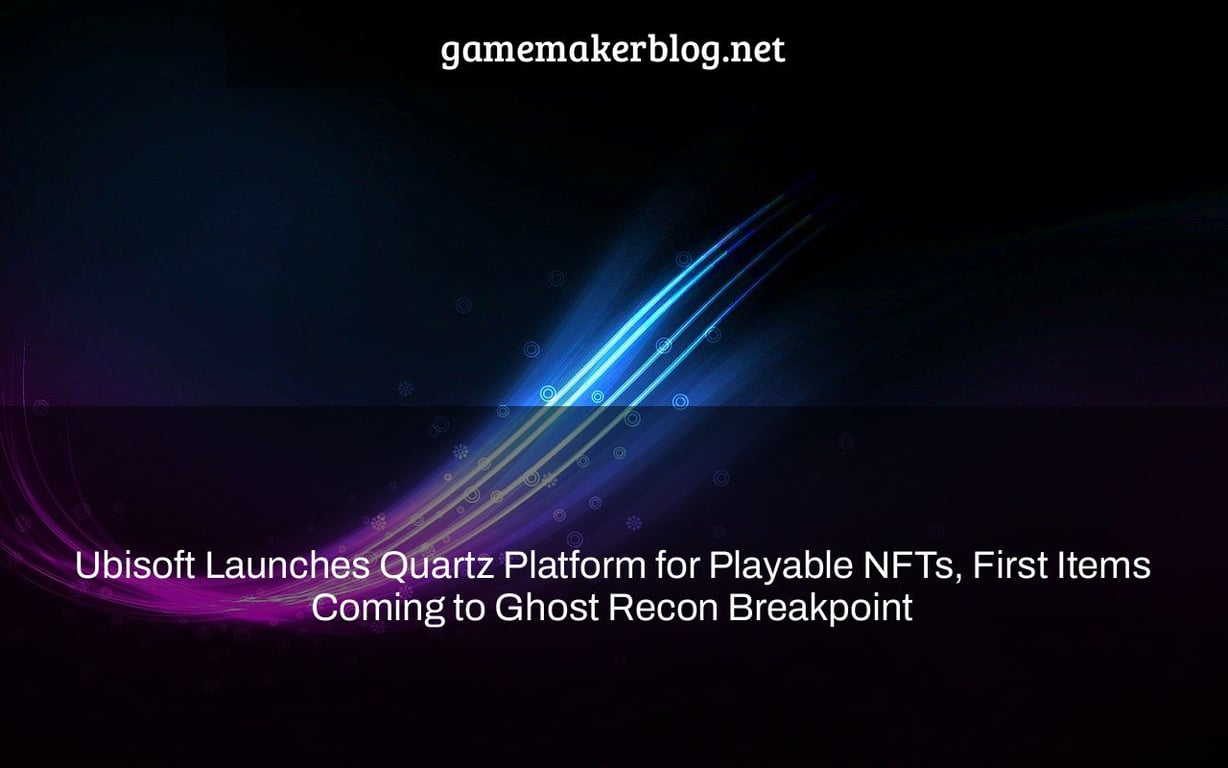 Ubisoft image
Quartz, a new platform that will enable players to purchase and manage NFTs in some of Ubisoft's most popular titles, has been announced with an introduction video.
Quartz will focus on Digits, Ubisoft's moniker for its in-game, playable NFTs, which consist of limited-edition cosmetics with unique serial numbers that can be traced from user to user owing to the blockchain's beauty. The first game to support Digits is Ghost Recon Breakpoint, the newest iteration of the Tom Clancy-inspired online tactical shooter series.
Each Digit may, of course, be sold to new owners via third-party markets. The embedded information in each Digit also makes it simple to access a history of prior owners.
Why the blockchain and NFTs are important for gaming, according to Blockchain Product Director Baptiste Chardon:
Blockchain's decentralized technology allows game firms to break free from the constraints imposed by more conventional platforms, laying the groundwork for a bold and exciting new ecosystem that is genuinely community driven by design. While this may seem simple at first, it is a completely different approach than the walled-garden digital settings we are accustomed to, and it transforms the videogame business by bringing ideas like individuality and control, as well as value distribution in our gaming worlds.
Because of the decentralized nature of the technology, this new method may potentially offer up new prospects in the long run, such as interoperability across games or a never-before-seen degree of autonomy for communities inside game worlds. In that sense, we view blockchain as a way of redistributing the wealth generated by players and producers via their interaction with their games, on top of current technologies. This, in our opinion, is a development of real-world potential in the digital realm.
The Ubisoft Quartz beta will begin on December 9th. The M4A1 Tactical | Wolves rifle (available on December 9), Wolf Enhanced Helmet A (available on December 12), and Wolf Enhanced Pants will be available for free for the Ubisoft Connect edition of Ghost Recon Breakpoint (available on December 15).
Ubisoft is the source of this information.
Recent Developments
GIGABYTE has confirmed the availability of the NVIDIA GeForce RTX 3080 (12 GB), GeForce RTX 3070 Ti (16 GB), and AMD Radeon RX 6500 XT graphics cards.
7th of December, 2021 7th of December, 2021
The NVIDIA GeForce RTX 2060 (12 GB) has a higher hash rate than the GeForce RTX 3060, however it lacks a mining limiter (LHR)
7th of December, 2021 7th of December, 2021
The Uncharted: Legacy of Thieves Collection will be released for PS5 on January 28, but there is no word on when it will be released on PC.
7th of December, 2021 7th of December, 2021
SIREN GD240E AIO ARGB CPU Liquid Cooler and M200 Portable SSDs are now available from TEAMGROUP.
7th of December, 2021 7th of December, 2021
The ROG Wingwall is a graphics card holder with a lot of RGB lighting, according to ASUS.
6th of December, 2021 6th of December, 2021
Following surprise layoffs, Raven Software employees stage a walkout, demanding full-time employment for the fired QA team members.
6th of December, 2021 6th of December, 2021
Watch This Video-
Ubisoft has launched the Quartz platform, which will allow for playable non-fungible tokens. The first items coming to Ghost Recon Breakpoint are a pair of "ultra community" branded sneakers.
Related Tags
one shot league
ubisoft hashcraft
ultra tokenomics
ultra resources info
games like assassin's creed