Hawkeye seems to be finally finding its groove. The only complaint I have is that the episode feels a little too short, but with the issue of having new episodes released every week it's hard not to appreciate this show for what it does well.
The "hawkeye tv show" is a TV series that has been on the air since 2013. The fourth episode of the season, "Partners, Am I Right?" was released on December 12th, 2018.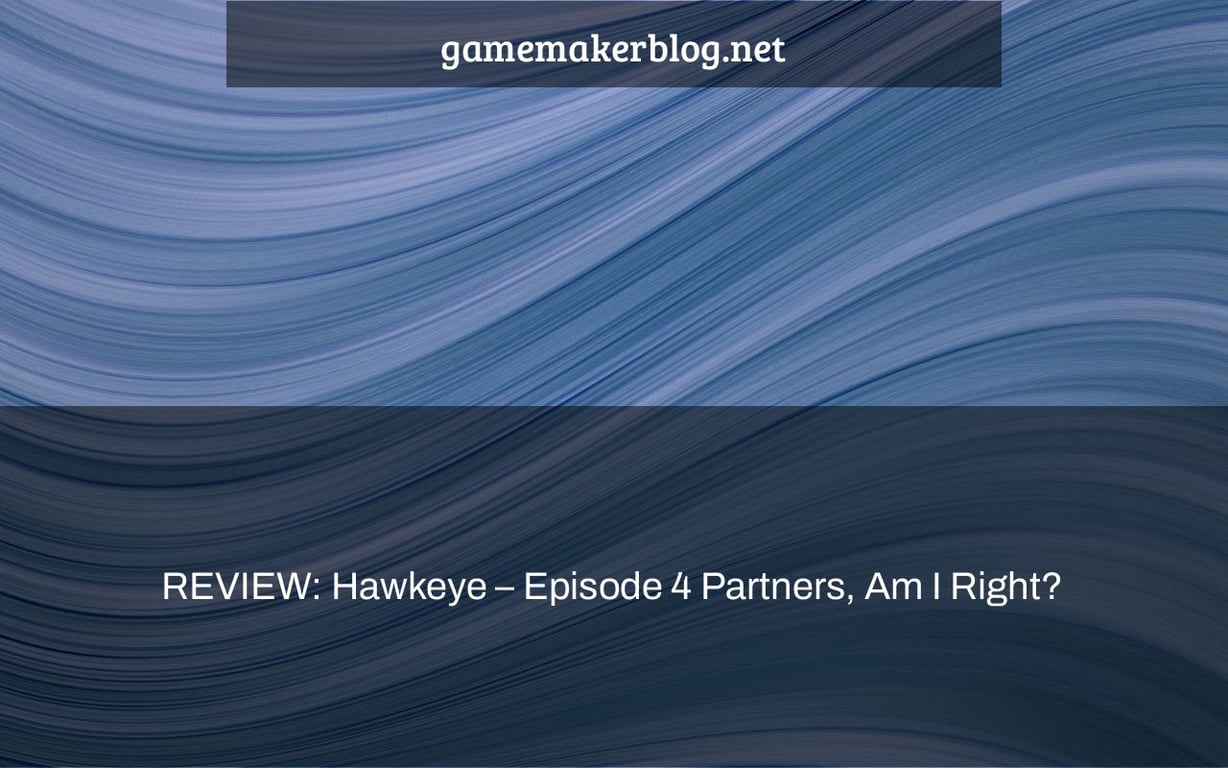 Hawkeye – Episode 4 "Partners, Am I Right?" REVIEW: Hawkeye – Episode 4 "Partners, Am I Right?"
Reviews of television shows
Every now and again, a program will air an episode that unwittingly captures the essence of the whole series. So far, Hawkeye's motto has been "Partners, Am I Right?" After last week's action-packed episode, it offers the characters a rest, and although a few significant moments make the break worthwhile, it's primarily a yawn. It also squanders the little amount of goodwill it gained through its villain and conflict with a Star Wars-style blunder.
Kate confesses to her mum after being caught with Clint. Clint will have to extend his stay in New York even longer while he searches for more Avengers cash. Eleanor and Jack continue to be pale doppelgängers of humans. It's time to spread some Christmas happiness.
Remember how the end scene of "Echoes" hinted that the Jack plotline was going to heat up? That was a big tease since his attempted beheading of Clint results in nothing more than an uncomfortable chat. When Eleanor wonders why her daughter is hanging out with one of Earth's Mightiest Heroes and why her information was used to enter into her company's computer system, Clint and Kate decide to give Eleanor and Jack a version of the truth. This is one of those scenarios where you can tell the individuals who put it together thought it would be a lot funnier than it really was. Clint looks bored to tears and wishes he was somewhere else, mirroring how I suppose anybody watching this is responding to Kate and Eleanor's clunky banter. This is the first of many times in "Partners, Am I Right?" when you can't help but feel sorry for Jeremy Renner. He's finally getting his own Hawkeye adventure, and this is the material they've given him, on top of having to share it with his not-so-subtle successor.
*SPOILERS*
Kate is bored as well, and after Clint departs, she'll be left with the equivalent of two obnoxious teens kissing in front of her. This irritates me, because it makes Eleanor seem unlikable. I get you've been widowed for a long and are free to do whatever makes you happy, but you're going to neck your fiancé in front of your visibly uneasy daughter, then piss and whine if she doesn't grab a pair of pom-poms and cheer for you? What type of individual acts like this? I'm hoping this is on purpose; if it is, it serves as a contrast to Clint, who has a loving, regular, functioning family that supports him rather than rubbing his nose in his misery. Again, I like Clint and Laura's chemistry and how she supports and cares for him rather than henpecking him in some "slay queen" nonsense that makes you doubt their relationship. Her telling him to relax and ice himself down, as well as her investigating Kate's father (anyone else beginning to suspect he's a false herring?) while baking Christmas cookies with the kids, are all excellent. While a part of me wishes for more Laura, I recognize that this is the perfect amount of her and the Barton clan, and I'm delighted the program has them for these little appearances.
So we have two lonely persons, one who can't be with his family and the other who is compelled to be with hers. They'll have a Christmas celebration together, and I like this scene as well. It does more to cement Clint and Kate's bond than anything else that has transpired before. (I also enjoy that Kate's stack's sole visible film is The Santa Clause, which is accessible for streaming on Disney+!) Even the music selection is appropriate, with "Mele Kalikimaka" implying that individuals should break free from the conventional Christmas trappings and do their own thing. (While we're on the subject of music, for those who don't reside in New York, Lite FM is a genuine radio station that broadcasts uninterrupted Christmas music throughout the holiday season.) Clint also delivers a wonderful speech about his deeds as Ronin, how he put his family in risk, and how he only views himself as a murderer. In these sequences, Jeremy Renner is excellent, and I like watching Hawkeye overwhelmed with sorrow, hoping that he would be the only one who suffers as a result of his sins. But, as amazing as this sequence is, it reminds you that this is what the show should be about, not Clint handing down his mantle or understanding he needs a partner or any of the Kate nonsense.
It shouldn't have the cheesy humor, and "Partners, Am I Right?" reintroduces the LARPers to ensure that we don't take things too seriously. I couldn't believe they did it again. It was too much before, but now they're popping up again? All of this for Clint to get his arrows back? The LARP sidequest is here to give Kate something to do while Clint goes after one of the Tracksuit Mafia guys, which ties in with my argument about Kate being shoehorned in as his substitute. Clint could have easily reclaimed his arrows after sneaking back into the fairgrounds with a short five-second shot of him retrieving them. But we need Kate to be involved, and we need to crank up the hilarity after Clint's vulnerable moment, so here we are. I'm calling it now: the LARPers will assist Clint and Kate at the finale's climax.
When it comes to climaxes, the one in "Partners, Am I Right?" is a dud, something that was supposed to make us gasp in astonishment but instead just wastes time and achieves nothing. Kate breaks into Maya's apartment in order to recover the stolen Avengers Rolex watch, but she is caught, and a fight follows. Apart from the fact that, like the arrow recovery, this should have been Clint and not Kate, the battle removes any fear of fighting Maya. Last week, she was put up as a serious danger, but now Kate is on par with her? Maya is flung about like a rag doll as the combat crosses over to the other rooftop, not only by Kate but by another unknown fighter who is clearly Yelena from Black Widow long before she's exposed. This is another another example of overstuffing what could have been a simple plot; we don't need Yelena, and we certainly don't need Kate. Clint vs. Maya, which was built up in the last episode and will most likely not be resolved since there are too many moving elements. And now that Maya's abilities aren't as dazzling as they once were, she joins Kylo Ren as villains who were weakened much too soon. And that's what I was getting at from the start: this episode, like the series itself, is a shambles.
"Partners, Am I Right?" is a mixed bag of an episode from a mixed bag of a series. It's dull at moments, human at others, not particularly thrilling or hilarious, but with flashes of heart and wistful glimpses of a better program hidden behind the mountain of checklist items the studio insisted on inclusion.
Plot – 7
Acting – 8 points
7 Progression
8 – Production Design
6th Action
7.2
Okay
"Partners, Am I Right?" is a mixed bag of an episode from a mixed bag of a series. It's dull at moments, human at others, not particularly thrilling or hilarious, but with flashes of heart and wistful glimpses of a better program hidden behind the mountain of checklist items the studio insisted on inclusion.
Watch This Video-
Related Tags
hawkeye show release date
hawkeye marvel
when is hawkeye coming out